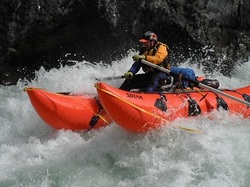 Legend Cats

The revolutionary Sotar Legend Cat tubes are anything but ordinary. The most popular 12'6"x22.5" might be a little cat by some peoples standards, but it has a whole lot of attitude. You continue to see more SOTAR Legends out on the water every year because of their amazing agility and performance. The original 3 panel fairy shoe design has been tweaked and perfected over the last 10+ years by Ted Day with Payette River Equipment (our Idaho Rep for over 20 years) who pushed SOTAR to build the ultimate big water cat boat that can handle the insane things that ordinary boaters would just shake their heads at. Having the right gear for the right river is one of the most important things you can do. The Legend handles unbelievably well in Technical Class IV and V water where the performance and the characteristics of the Legend really stand out. The SOTAR Legend takes cat boating to a whole new level of performance, allowing you to stay in control and on top of the water. The Legend tubes were designed for the big drops and will step up to the challenge and outperform any other cat boat in big technical water. We offer an 11', 12'6", 14' and 15'6" model and all have the easily recognized oversize tube diameter, 3 panel Sotar continuous curve design, and super high upswept ends that help the Legend cats do what they do best.

All SOTAR Legend Catarafts are hand built using our extremely tough and durable 40 ounce Urethane (Lexatron) material with a 3000 denier base fabric.

Available colors: Light Blue, Dark Blue, Teal, Yellow, Orange, Red, Grey, Purple, White, Black, Green and Dark Green. 2 or 3 Color Combination at no extra charge.

---
11' Legend Tubes

Specs:

Length: 11'
Tube Diameter: 21"
Bow/Stern Rise: 28"
Max Frame Length: 66"
Weight: 54lbs.
Air Chambers: 4
Material: Urethane 3000 denier, 40 oz.
Seam Construction: Welded
Valve: Leafield D7
Warranty: 10 Year

$2,615 tubes only

$3,225 w/ Gypsy Frame



12'6" Legend Tubes

Specs:

Length: 12'8"
Tube Diameter: 22.5"
Bow/Stern Rise: 30"
Max Frame Length: 71"
Weight: 59lbs.
Air Chambers: 4
Material: Urethane 3000 denier, 40 oz.
Seam Construction: Welded
Valve: Leafield D7
Warranty: 10 Year

$2,890 tubes only

$3,475 w/ Gypsy Frame

14' Legend Tubes

Specs:

Length: 14'
Tube Diameter: 23"
Bow/Stern Rise: 31"
Max Frame Length: 96"
Weight: 64lbs.
Air Chambers: 4
Material: Urethane 3000 denier, 40 oz.
Seam Construction: Welded
Valve: Leafield D7
Warranty: 10 Year

$3,207 tubes only

$4,050 w/ Nomad 2-Bay Frame


15'6" Legend Tubes

Specs:

Length: 15'6"
Tube Diameter: 24"
Bow/Stern Rise: 32"
Max Frame Length: 106"
Weight: 80lbs.
Air Chambers: 4
Material: Urethane 3000 denier, 40 oz.
Seam Construction: Welded
Valve: Leafield D7
Warranty: 10 Year

$3,530 tubes only

$4,475 w/ Nomad 3-Bay Frame